What are White, Middle-Class Primary Voters Trying to Say?

Neither Burisma Nor Bloopers Nor Unexpected Grand-Baby Can Take Bloom off Biden Rose for Democrats Desperate to Defeat Donald Trump;
While Warren & Sanders Do-Si-Do for 2nd Place Nationally, Buttigieg Leaps into 4th, Doubling His Support In a Month; Then Came Bloomberg ...

10 weeks to the Iowa Caucuses, likely Democratic primary voters nationwide can't quit Joe Biden, according to SurveyUSA's newest tracking poll, conducted immediately after the 11/20/19 Democratic Candidate Debate in Atlanta. Though Biden's children and now suddenly a grandchild are in the news for all the wrong reasons, though Biden continues to demonstrate to all who pay attention that he struggles to express himself, though he inadvertently steps on the toes of his core constituents, and though Republicans see him as a punching bag, Biden's poll numbers are inert.

In 4 consecutive SurveyUSA tracking polls, Biden has never polled higher than 33%, never polled lower than 32%. Though some see the former Vice President's pants on fire, likely Democratic Primary voters stick with the devil they know. Biden has led in every SurveyUSA nationwide poll, never by less than 10 points, today by 15 points.

Given the chance to choose any of the Democrats still in the race, but before Michael Bloomberg is added to the mix, likely primary voters today appear to have second thoughts about Elizabeth Warren, who drops 6 points from October to November and now polls at 16%, one statistically-insignificant point behind Bernie Sanders, who today, for the 3rd consecutive month, polls at 17%.

Pete Buttigieg had been at 5% in both September and October, but today, as Americans set their Thanksgiving tables, Buttigieg leaps to 12% nationwide, materially ahead of the rest of the pack, 4 points behind Warren and 7 points ahead of Kamala Harris who, despite a strong performance in Atlanta, today finishes 5th.

Combined, Harris and Cory Booker, the other black Democrat on the debate stage, have the support of 12% of African American Democratic primary voters. By contrast, Biden is today backed by 53% of African American Democratic primary voters. Biden was backed by 35% of black Democrats in August, 42% of black Democrats in September, and now 53% of black Democrats in November. 1% of black voters back Buttigieg.

Among white middle-class Democrats, Buttigieg's support doubles month-on month, vaulting Mayor Pete past Warren and past Sanders and landing in Biden's rear-view mirror.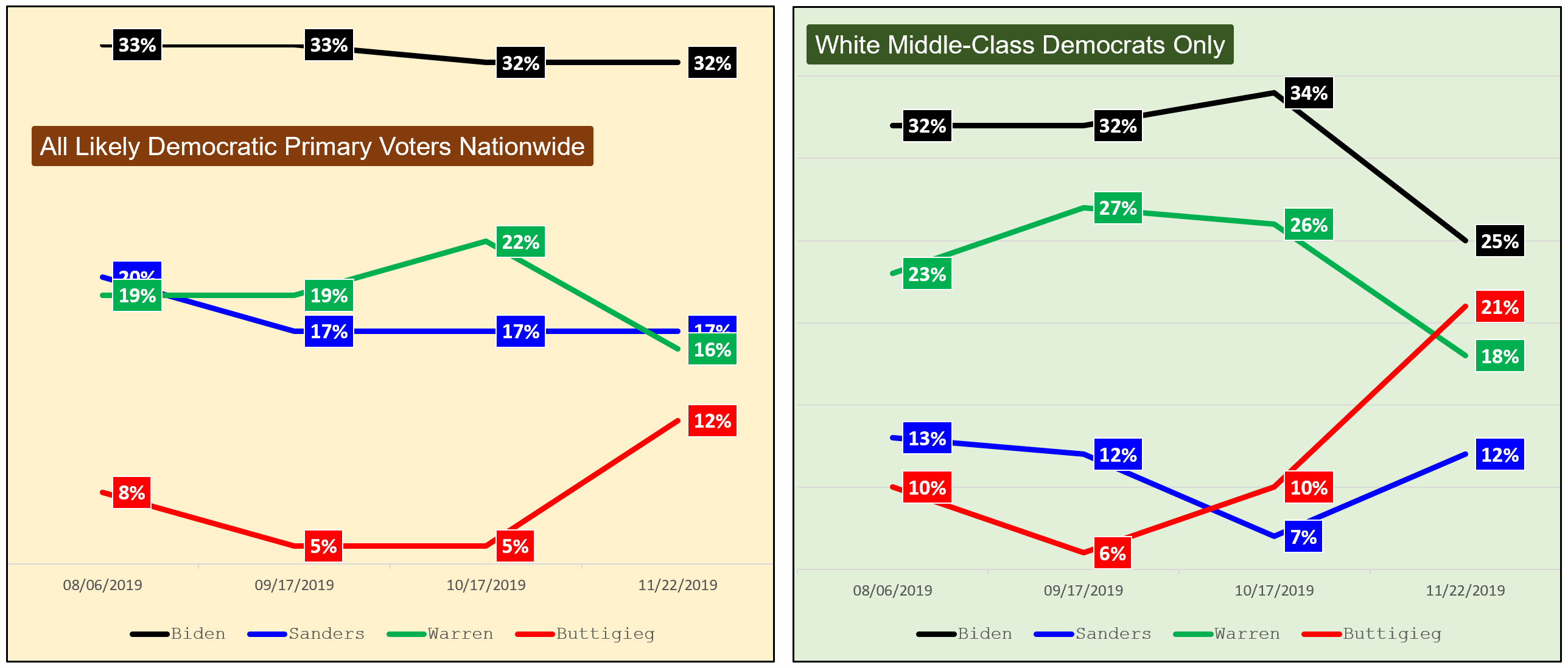 Among the oldest Democratic voters, age 65+, Biden is comparatively steady with 43%, but Buttigieg has now leapfrogged Warren into 2nd place. From October to November, Warren's support among seniors was halved, from 26% to 12%. Between September and November, Buttigieg among seniors went from 5% to 10% to today 16%.

Among Democrats who tell SurveyUSA they are "just getting by," Biden is down 4, Warren is down 5, and Buttigieg is up 9, from 3% in October to 12% today. Among Democrats who say they are prospering, Warren lost 11 points month-on-month, Buttigieg gained 14 points, from 4% in October to 18% today, effectively even with Sanders, who at 20% runs 2nd to Biden at 33%.

Among suburban men, Buttigieg leapfrogs Warren and is effectively even with Sanders for 2nd place, behind Biden. Among suburban women, Buttigieg catches Sanders for 3rd place, behind Warren and Biden.

81% of likely Democratic primary voters say they are happy with the choices they have for President. Of those who are unhappy, the 2 names that are volunteered most often are Hillary Clinton and Michelle Obama.

When SurveyUSA re-asks primary voters who they prefer with Michael Bloomberg and Deval Patrick added to the existing list, Bloomberg finishes 7th at 3%, nominally behind Andrew Yang (4%) and nominally ahead of Booker (2%). Bloomberg siphons approximately 1 of every 20 Warren voters and 1 of every 20 Buttigieg voters. Patrick finishes last, nominally behind Amy Klobuchar (2%), Tom Steyer (2%), Tulsi Gabbard (1%), and Julian Castro (1%).

About: SurveyUSA interviewed 4,800 adults nationwide 11/20/19 through 11/21/19, immediately following the Democratic candidate debate in Atlanta. Of the adults interviewed, 3,850 are registered to vote. Of the registered voters, 47% told SurveyUSA they would be certain to vote in a Democratic primary "today," versus a Republican primary. Those who were not certain which primary they would vote in "today" were excluded. Of the 1,783 who say they are certain to vote "today" in a Democratic primary, 1,088 say they are closely following the 2020 Presidential election and were asked the substantive questions in this survey. The research was conducted online. (Not every jurisdiction in the United States has a primary or caucus; not every American has a chance to vote in a Democratic primary, and by the time Democrats in certain states do get to vote in 2020, a number of the currently campaigning Democrats may have suspended their campaigns. As such, a nationwide poll such as this has greatest value when studying movement over time, from one poll to the next. Where, on this template, you see a "Triangle T" on Question #4, click directly on the "T" to open up tracking graphs that reveal SurveyUSA time-series data. Time-series data is not just available for the overall results to a particular question, but for every demographic sub-population. As is true with any opinion research report, the fewer the individual respondents in the sub-population, the larger the chance that sampling error and other error may make those estimates less precise.)